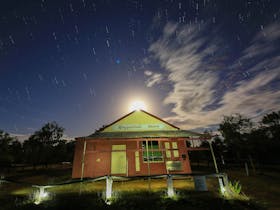 Historical Sites and Heritage Locations, Agri / Mining and Industry
Map Address
Visit Website
Enquiry
Copperfield Store, Chimney and Cemetery
Rubyvale-Copperfield Road, Clermont 4721
Ph: 1300472227
In 1861 copper was discovered four miles south-west of Clermont and Queensland's first copper mine, Peak Downs Copper Mining Company was born. By December 1864 the first shipment of copper was destined for Broadsound on bullock drawn drays and within 15 years a total of 17,000 tons of refined copper sold.
In 1874, the Municipality of Copperfield was declared and the town was bustling with over 2000 Chinese, Welsh and Australian residents and the town comprised of 370 dwellings, 31 miles of roads and streets incorporating two banks, a baker, three butchers, three blacksmiths, six stores, a saddler, two auctioneers, a cordial maker and six hotels, school of arts, a newsagent and its own newspaper, Copperfield Miner.
By 1892 the population had declined to 85 and the copper mine closed in 1907. All that remains today of Copperfield is the store, cemetery and chimney. The rich history of the town and its pioneers was instrumental in shaping the mining industry of today. These landmarks demonstrate the development and decline of Copperfield as a copper mine and commercial centre from the 1860s to the 1970s and it is unusual for stores in mining towns to outlive the remainder of the settlement.